We get it. No, we actually do get it.  What type of person do you think would make the WORST dental patient? A kid? 50-60 year olds? Someone in pain? No, its actually a dentist who has a phobia of dentists and dental work (plus a massive sweet tooth).  Meet Dr Angie.  Growing up Dr Angie for no specific reason was terrified of the dentist, the smell, the sounds, the uncertainty of everything and not being in control. This lead to her adult life avoiding at all cost going to see anyone.  So what does she do? She became one.  Keep your friends close, but your enemies closer right?
"I just wish when I was younger that someone would of told me there were other options out there to help me do the treatment that I needed done." Dr Angie the dental phobic dentist. 
It has become her mission to change the public opinion on dentists! If you're worried about your first appointment with us – you don't have to be. All of our dentists are kind, friendly, non-judgemental and take the time to explain and discuss all treatments with you to make sure you're well informed before going ahead with anything. And do not fear if you need a little extra help, we have a range of options to achieve your dental goals.
Whether it just some extra time, a weighted blanket, a stress ball, premedication, happy gas (nitrous oxide) or intravenous sedation otherwise known as "sleep dentistry," "conscious sedation," and "twilight dentistry" we are here to help you get through it.
Dr Angie and Dr Sam are both further qualified with a Graduate Diploma in Conscious sedation and pain management. This means we can offer intravenous sedation in house to our patients.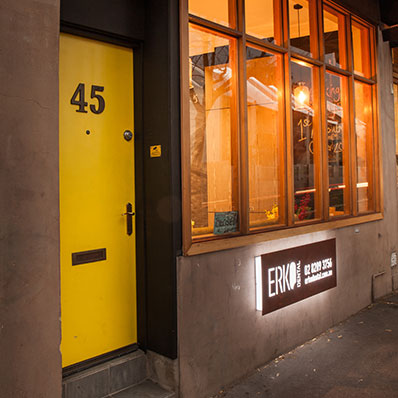 Find Us
45 Erskineville Rd, Erskineville NSW 2043
Phone (02) 8209 3756 or (02) 9053 6797
Email hello@erkodental.com.au
Opening Hours
MONDAY – FRIDAY 8.00AM – 6.00PM
SATURDAYS 8.00AM - 4.00PM