Lets face it, a lot of us are terrified of going to the dentist, and if not, at least anxious, nervous, or just plain wanting to run out the door. If you need or just want to forget about what's happening we can help.
"Sleep dentistry," "IV sedation," "conscious sedation," and "twilight dentistry" are all the same thing. At Erko Dental, both Dr Angie and Dr Sam have completed extra training in conscious sedation and pain control to be able to provide this option in house, with your treating dentist. You will have 2 dentists looking after you!
New and existing patients are welcome to ask for it any time. After a thorough consultation to determine if you are suitable, we can do everything from simple cleans to fillings to implant placements while you watch the fairies dancing in the sky.
So if you live around the Erskineville, Newtown, St Peters or Alexandria area please feel free to give us a call to find out about this option. And even if you don't live in the area we are happy for you to contact us about this service.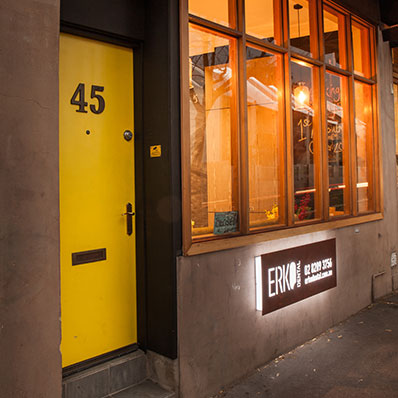 Find Us
45 Erskineville Rd, Erskineville NSW 2043
Phone (02) 8209 3756 or (02) 9053 6797
Email hello@erkodental.com.au
Opening Hours
MONDAY – FRIDAY 8.00AM – 6.00PM
SATURDAYS 8.00AM - 4.00PM